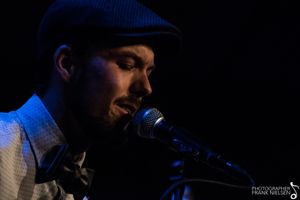 Jesper Theis, Blues Artist: An Introduction 
As human beings, we often deny the most pressing and obvious truths about ourselves, denying who we are and who we wish to be. On other occasions, we muster the courage to imagine what is possible, and we endeavor to turn that possibility into reality. 
Jesper Theis was a schoolteacher in Aalborg, a city of more than 200,000 residents in northern part of Denmark. In his heart, however, he is a musician – a songwriter, singer and guitarist – inspired by the mid-20th century blues, folk and gospel music of the Southern United States. 
At age 32, Theis recently recognized that he could not serve his musical passion on a part-time basis, so he has taken the proverbial leap of faith, quitting his job and making a full-time commitment to earning his "bread and butter" as a professional musician. 
"I couldn't do both [teaching and music] properly. I always felt that I had to push away the music because my work took too much of my time," Theis explains. 
"When I write a song, or do my own version of a song, I don't think about chords, licks or a particular style. I just play it the way I like. That's why there are mambo rhythms, jazz and folk on the record – more than only Delta blues. I definitely have no book and no rules for my music," he explains.   
Still, for Theis it all comes back to playing the blues, which he says is "a very pure and straight-on way to make music. One thing I really like in playing blues music, especially doing live gigs, is that it's so unpredictable. It's so much about the audience and the other musicians, and so little about prearranged songs."   
Armed with a resonator guitar and a slide, Theis plays most of his gigs in a duo setting with Olav Gudnason on double bass, and sometimes works in a duo with a harp player.   
"It's more fun and interesting to have someone to play with and communicate with through the music," he said. "If the pay is good enough, we add a drummer/washboard player. The more the merrier!"   
-end-
The blues cast its spell on Theis early on, but he had a life-changing moment upon hearing "Coco Blues" (also known as "Cocaine Blues"), a traditional eight-bar folk blues tune popularized by Rev. Gary Davis.  
"This was the song that really got me into blues music and into Mississippi Delta blues. When I first heard 'Coco Blues,' it touched me deeply and changed my way of thinking about music. It's all about emotions and expression. And, I love the melody and the pictures that the lyrics put into my mind. I get a new twist on the lyrics every time I hear it or sing it."  
"Coco Blues" is but one of the gems on Theis's debut album, Narrow Line, just released on the Straight Shooter label. Theis recorded Narrow Line in Finland in two sessions this spring. One session featured Theis accompanied by Peter Nande on harmonica. The other found Theis in a band setting with bass, drums/percussion and (on selected tracks) trombone and second guitar. In addition to "Coco Blues," the album's 12 tracks feature four Theis originals and two tracks he co-wrote with Nande, as well as two Nande originals, along with covers of tunes by Son House and Tom Waits, and a traditional tune often associated with Muddy Waters.  
"I think of myself as a bluesman," Theis says, and at his core he identifies most strongly with Delta blues. His work on Narrow Line, however, shows that he has a deeply instilled understanding of the blues in all of its various shades, incorporating old-time black gospel, syncopated Caribbean rhythms and a '60s folk revival vibe.